Shopping Basket
Your Basket is Empty
There was an error with PayPal
Click here to try again
Thank you for your business!
You should receive an order confirmation from Paypal shortly.
Exit Shopping Basket
Production & Performing Arts Total Look Styling Services . Mobile & Online Tuition

HAIR . MAKE-UP . SPECIAL FX . FACE/BODY ART . COSTUME/ACCESSORIES
SET DESIGN . SHOWROOM/WINDOW DISPLAY . INTERIORS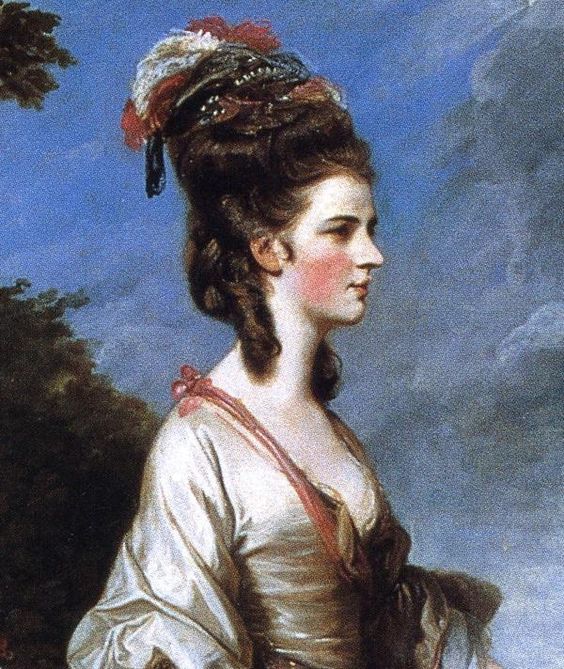 As a guest lecturer I was asked to teach this workshop for Fareham College Level 3 Production Arts Students. It is very hard to find information on this so I've decided to share the workshop with you... Some of the students used single wire taped and twined together... I have only photographed the sample I made which used chicken wire. The college didn't have any smooth weft hair strips to cover the cage to make it re-usable so I just encorporated the cage within the practice doll's own hair. I call her 'the model' in the instructions...
You'll need:
Either a live model or practice doll head with long hair. You can of course use any long wig (attached to a block) or weft faux hair if you want to create a permanent hair covered wig cage.
Brush/comb.
Hair pins and grips.
Lots of hairspray!
Chicken wire/wire cutters/safety glasses.
Matted faux hair and a stitched line of smooth faux hair (for rolls and extra cage coverage).
Ultra fine hair net (matching hair colour).
Optional extra hair pieces.
Hair coloured or neutral netting.
Large curved needle and strong thread (matching colour).
Decorative hair pieces. Pearls, flowers, jeweled combs, etc.
STEP BY STEP INSTRUCTIONS:
1. Make your cage. Careful with the edges! Turn them over to avoid sticking in sharply to the head!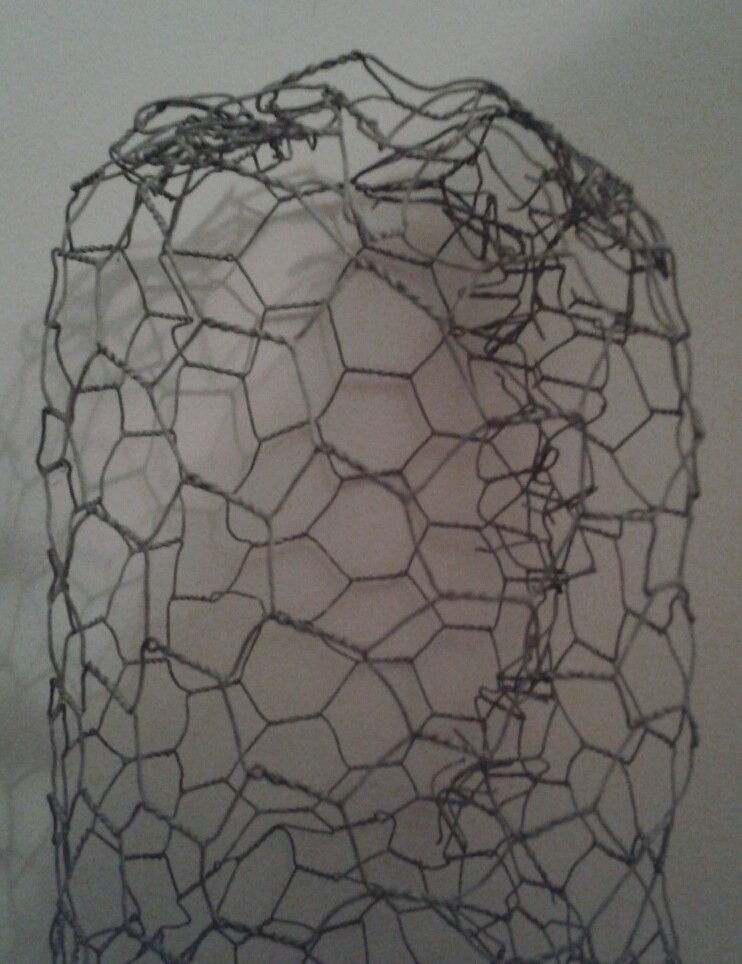 2. Cover with large holed netting - taking care to fold over all raw edges. Fold and twist the top like a 'cracker'. Sew to secure edges and top.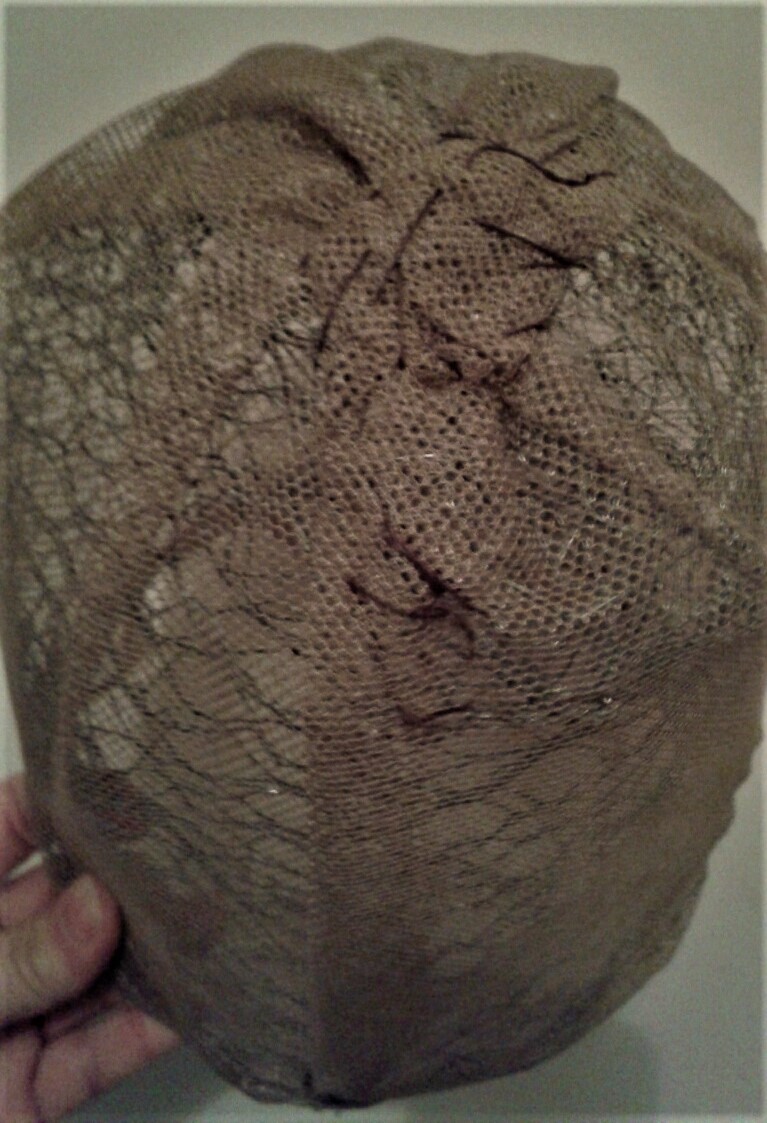 3. Brush the model's hair forward from the crown, falling in front of the eyes.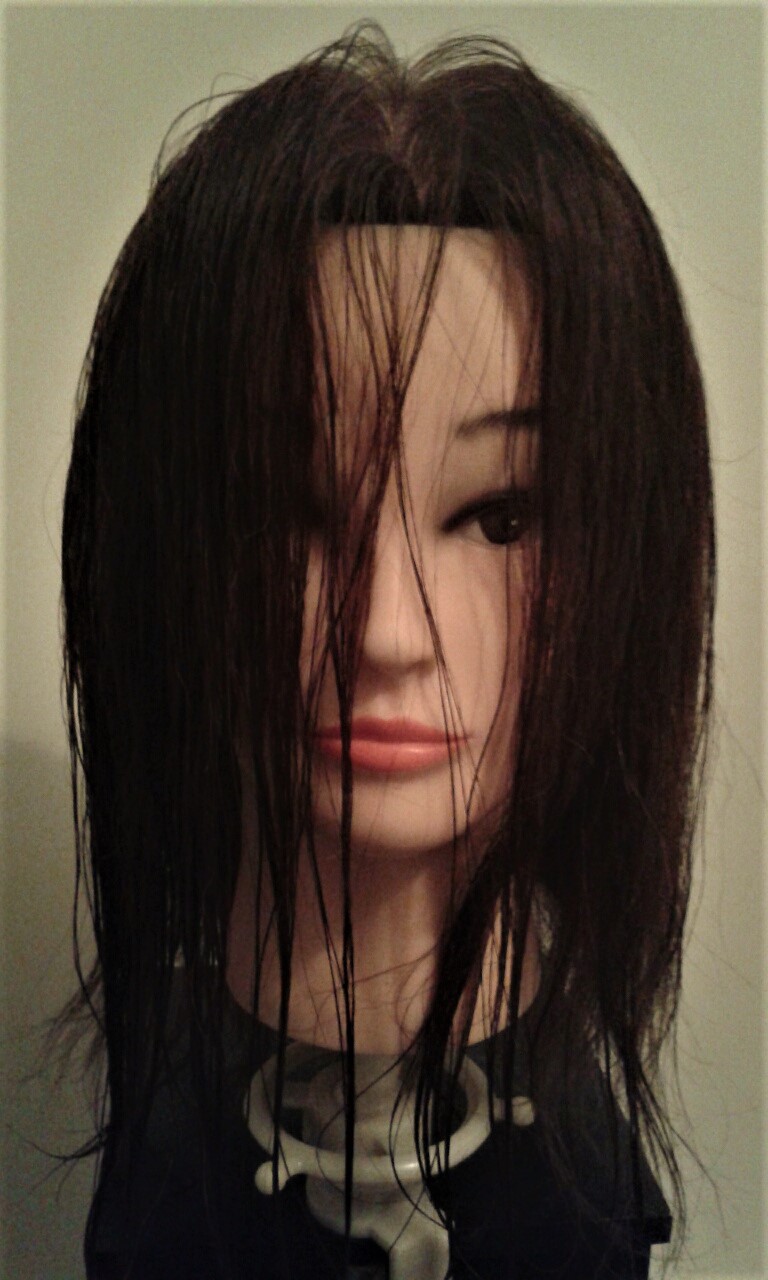 4. Secure the cage to the hair crown with hair pins. For a 'moving' model secure pins into cornrows/plaits/spirals (front/back/sides).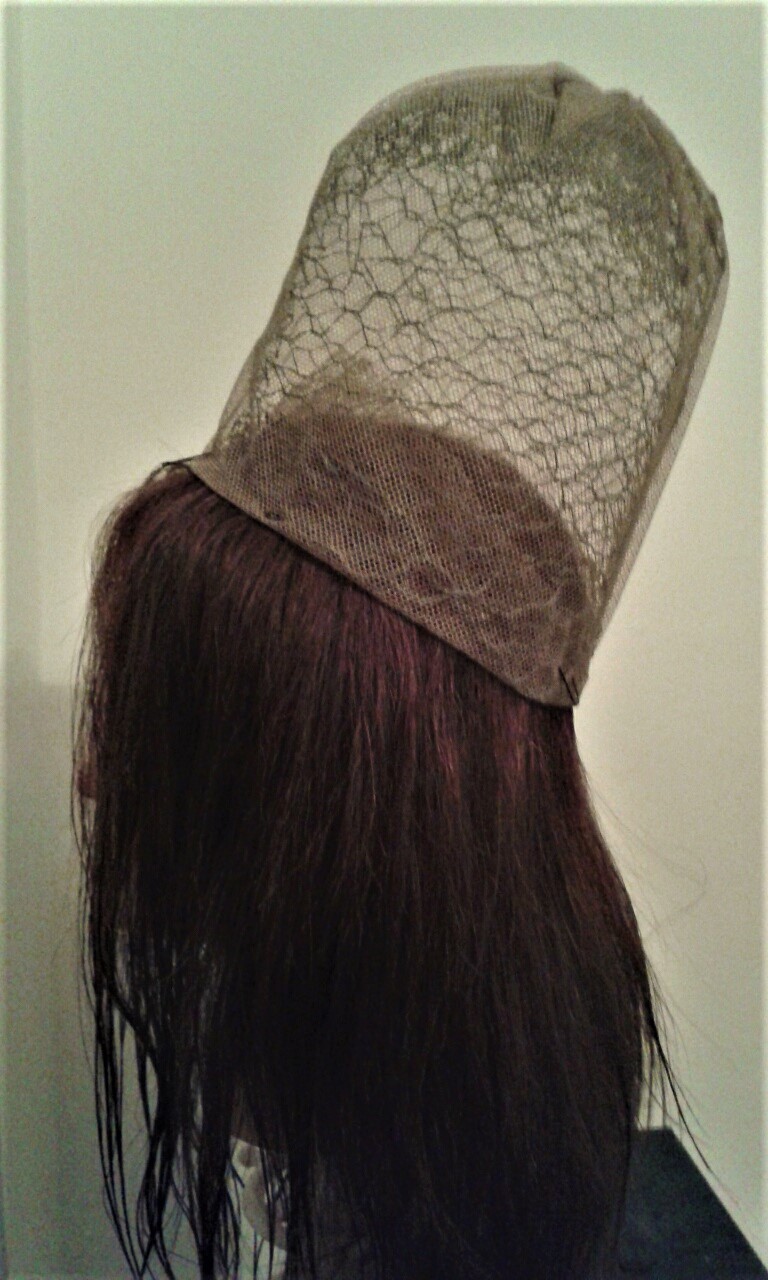 5. Comb up section by section sprayed with hairspray. Hide/smooth all joins. Fix to cage with criss-crossed hair/kirby grips.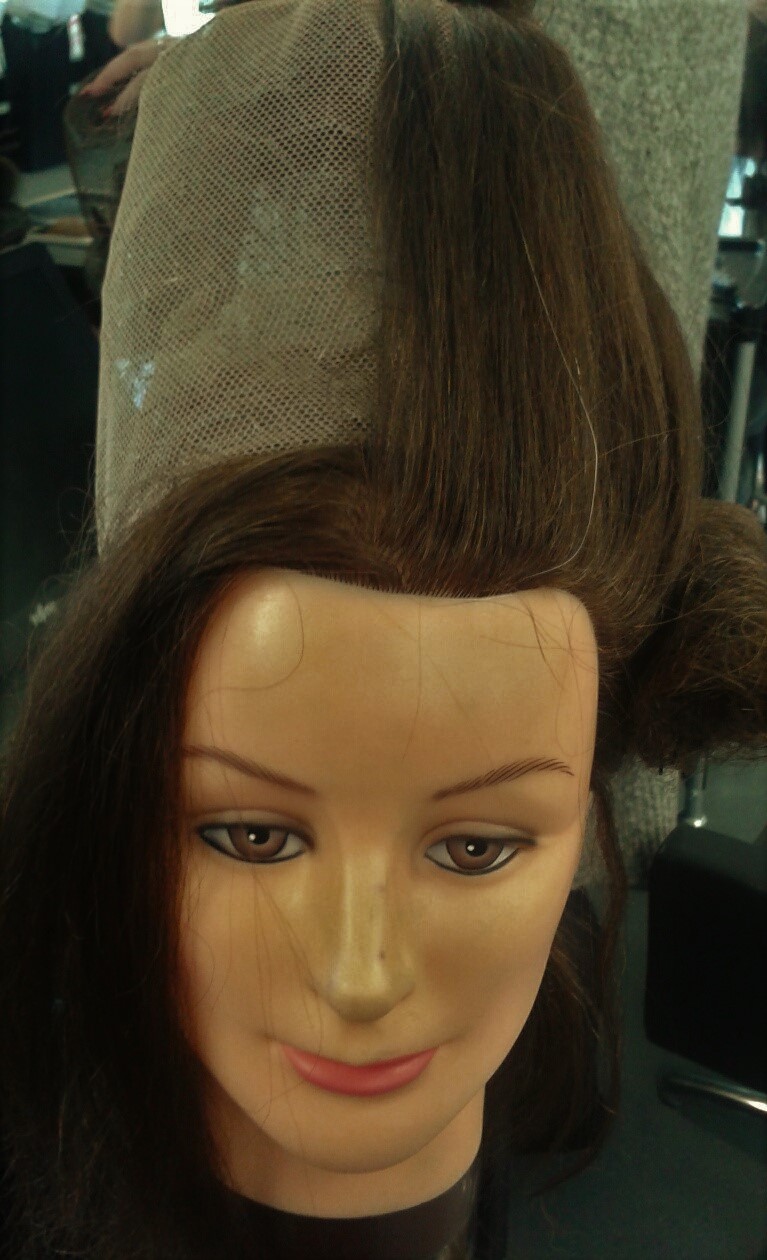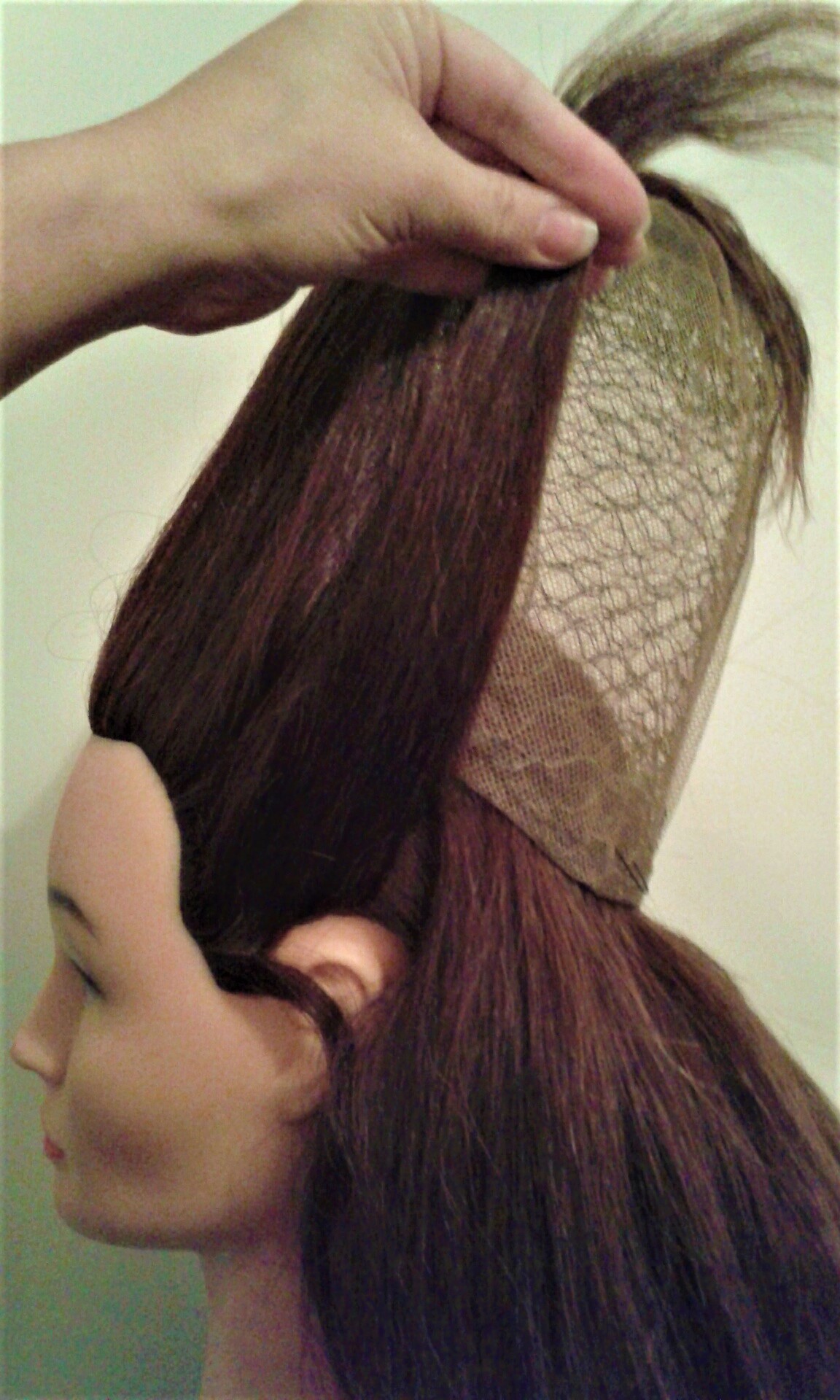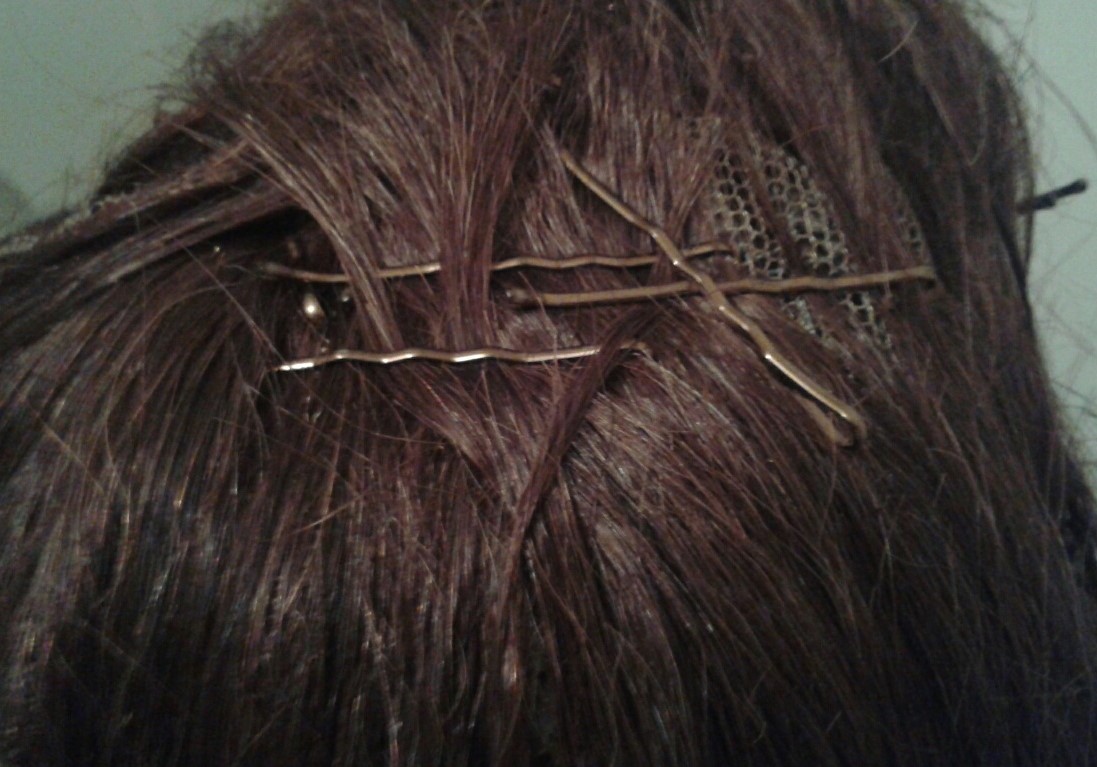 6. Add a matching colour faux hair piece (this one is too light but I didn't have a darker sample to use) to cover top if messy or just use several faux hair rolls (see next step no. 7 to make them). You can of course cover with decorative items too which will hide joins/clips.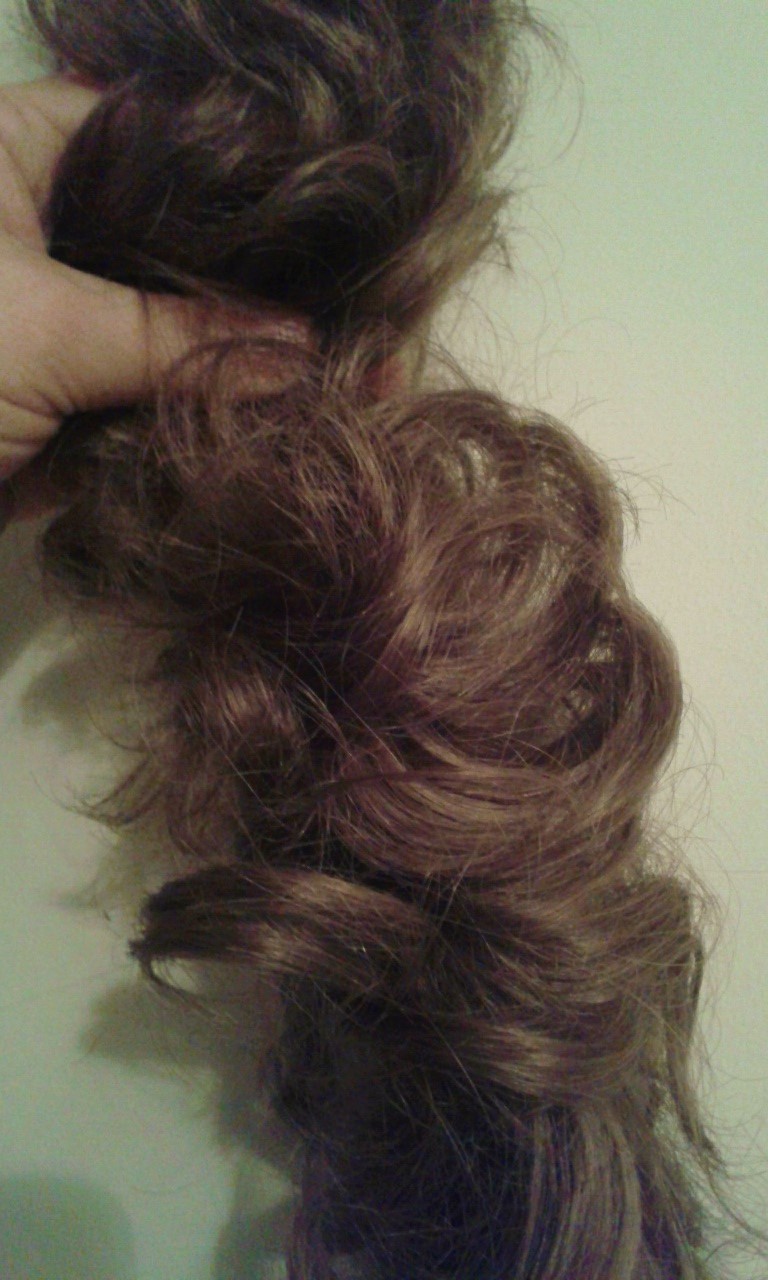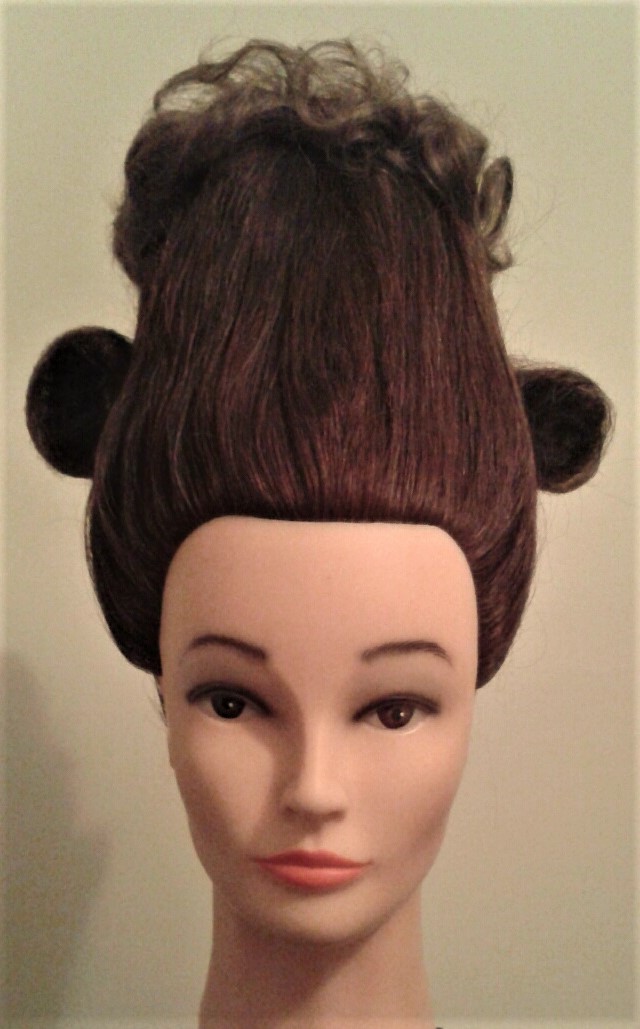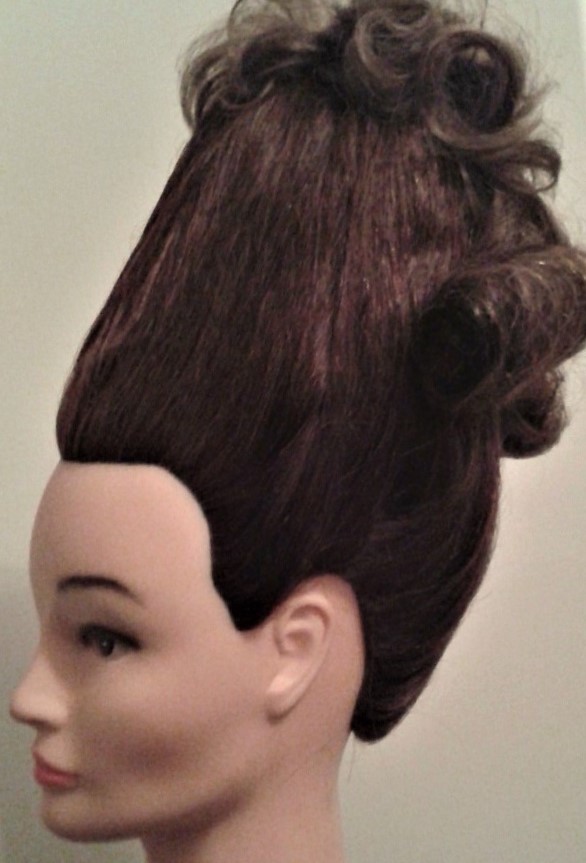 7. Use two fingers and wrap a flat, matted, hair sprayed, rough, faux hair piece neatly into a tight roll. Fix with two hair grips. Spray again. (Cover with an ultrs fine net if you wish). Cover this with a smooth line of faux hair. Cut enough strip to stick approx 2cm into the end holes. Use the ends of the grips to steady your piece of hair whilst winding it around the matted faux hair roll. Spray. Add grips again for secirity. Do finger pin-curls at the ends and poke into the holes to disguise the matted base roll. Steady with a couple of pins. Spray again. Cover with an ultra fine hair net (cutting off the elastic) and poke into the end holes. Remove the pins unless ultra fine and invisible. I have left my 'rough' matted rolls uncovered on my model (they should obviously be covered). At the join - use two more hair grips along length of the roll to secure the shape.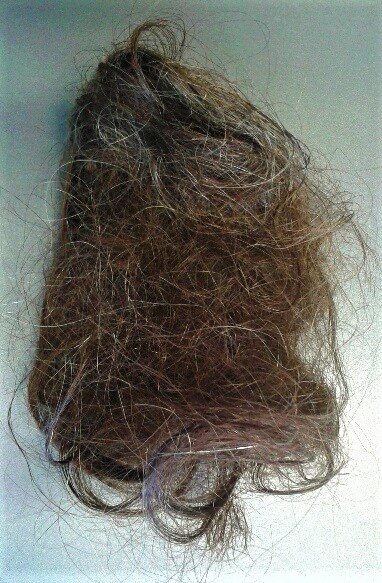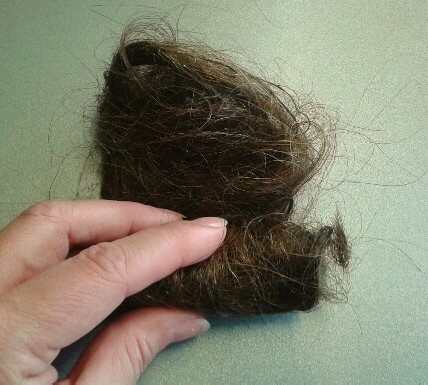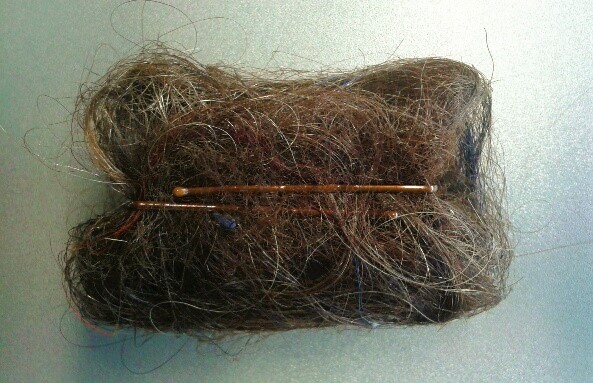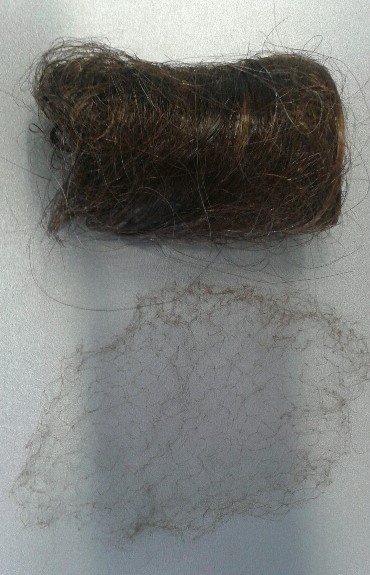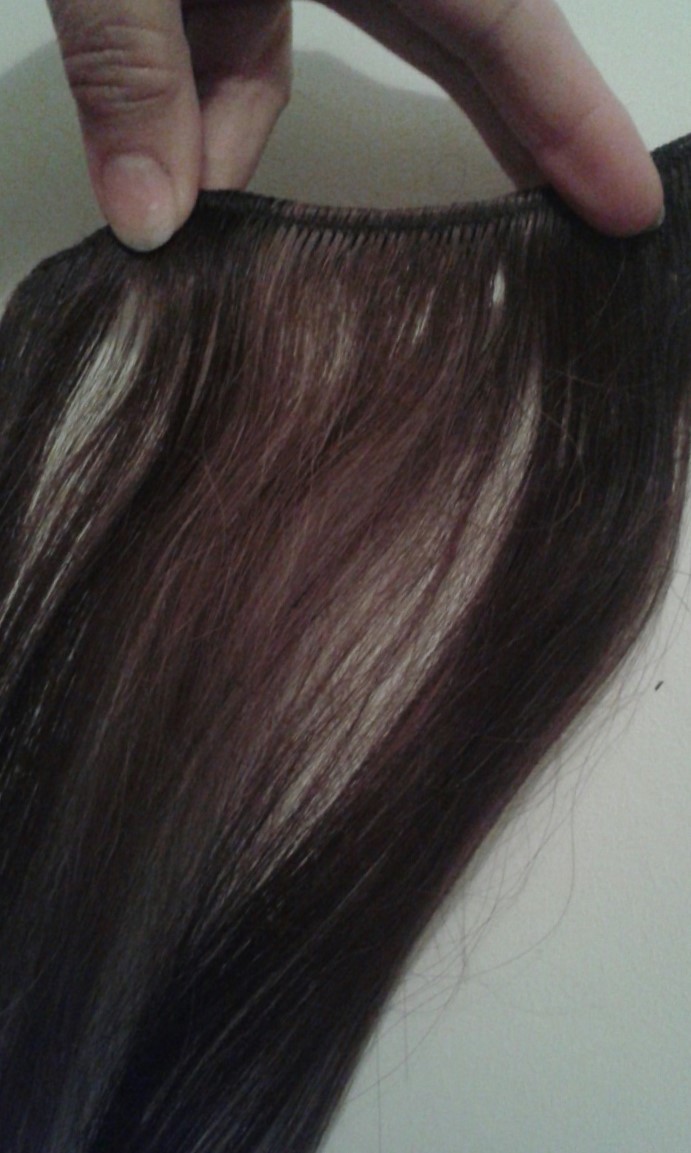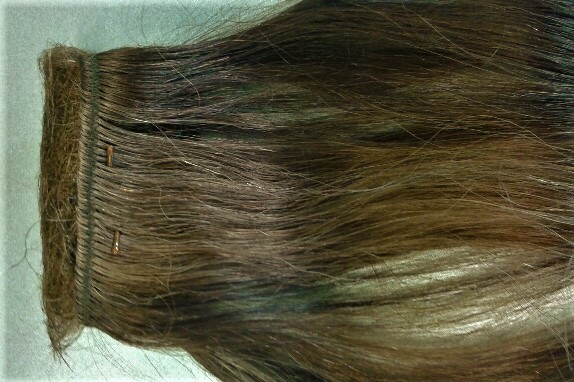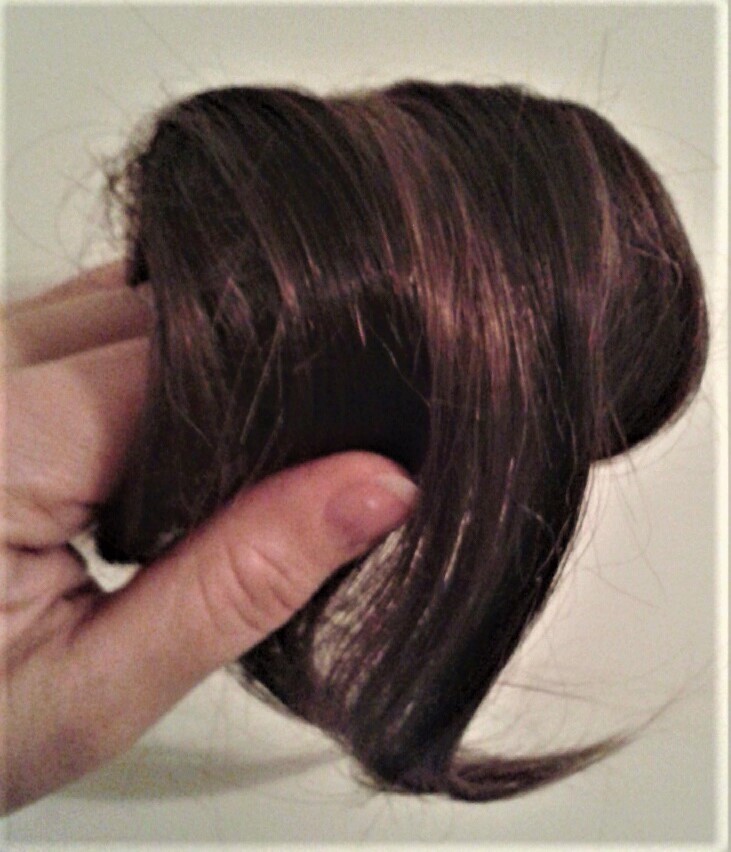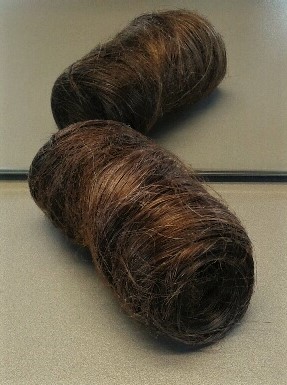 8. Add rolls (with grips hidden at the back) to sides and back with hair pins and place decorations (whichever way round is best for your design).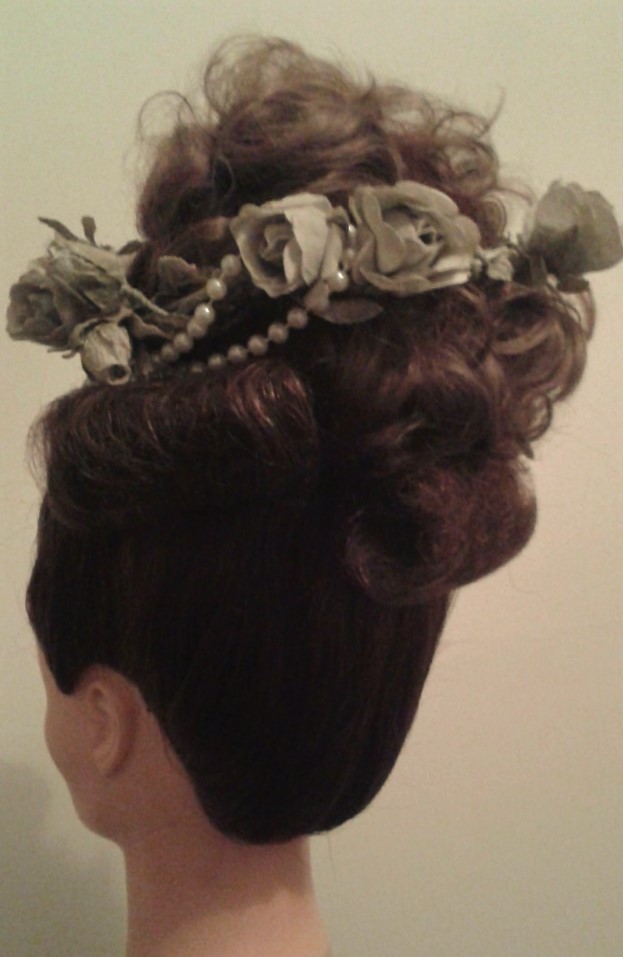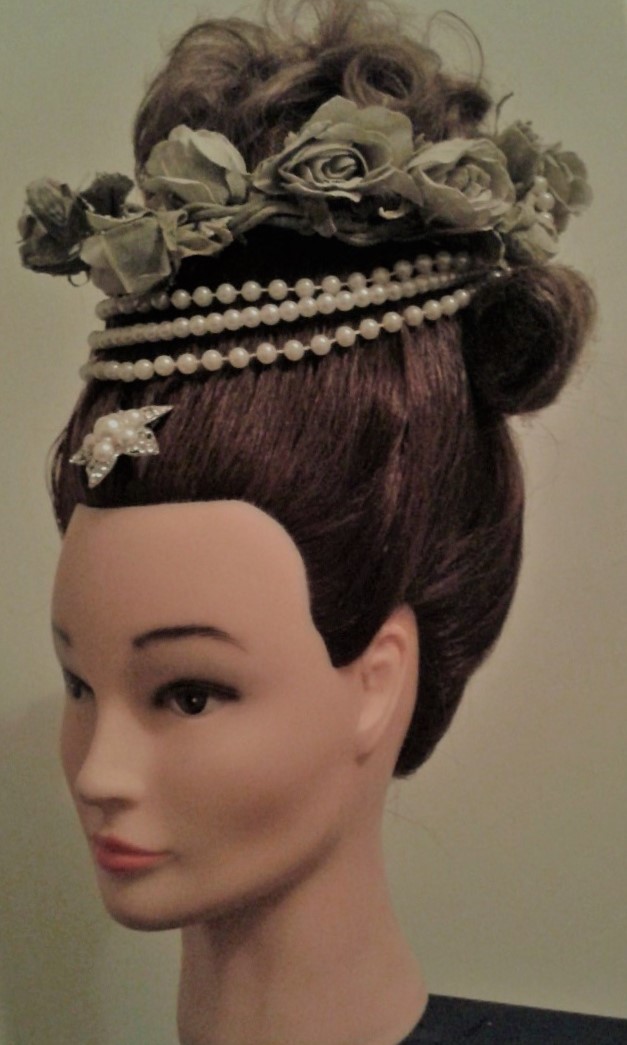 Voila!
Check out old master paintings and historical Georgian/18th Century style film clips for inspiration...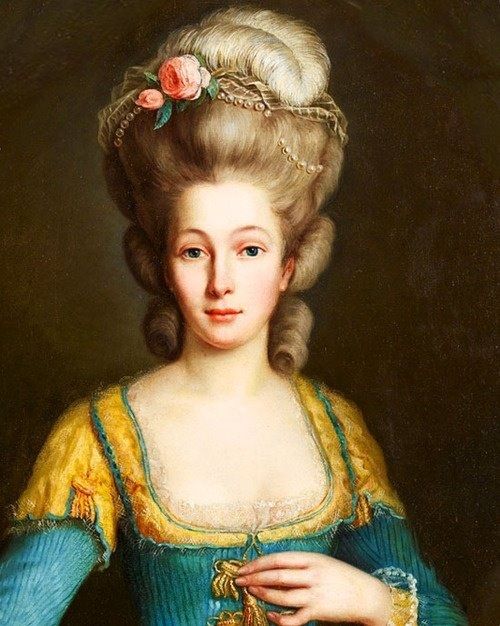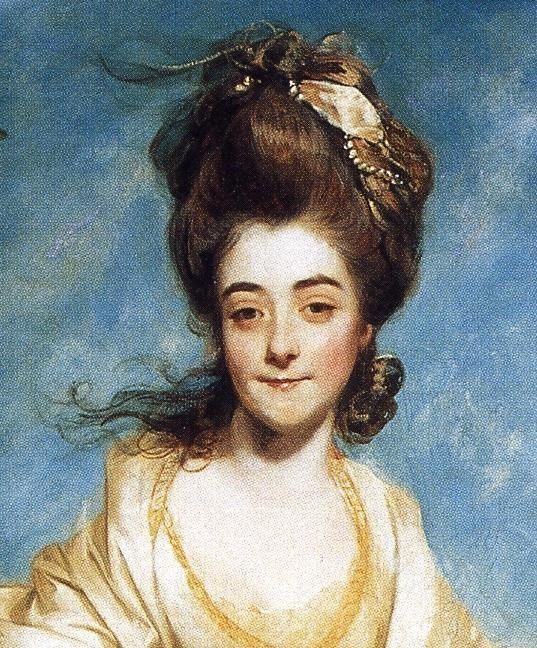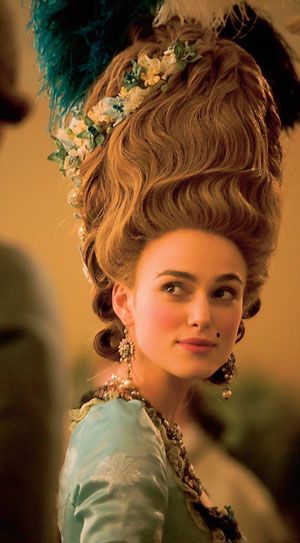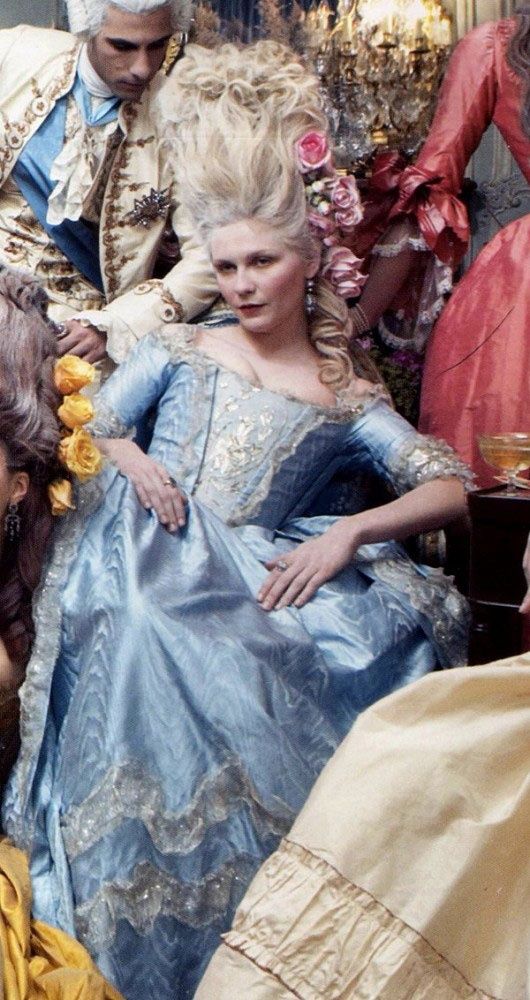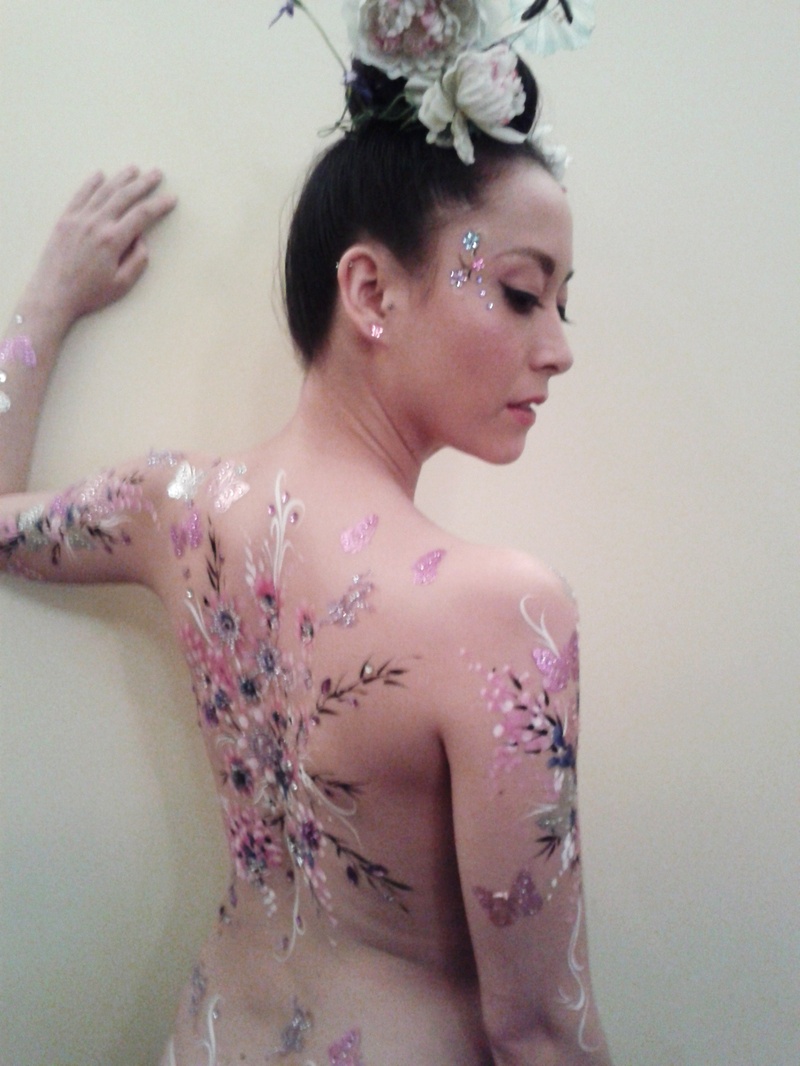 I have produced many Japanese geisha and Chinese concubine looks. With this theme - our models are usually asked to serve sushi, saki or wine at intimate private dinner parties and larger theme events. They make enchanting meet and greet hostesses - posing with guests for photos during Reception.
For a Chinese New Year celebrarion I asked a talented colleague to join me for working this oriental duo below (I won't take credit for painting that fabulous green dragon! I just art directed that image). One of my favourite jobs was working on the beautiful model where I used many pastel coloured body jewels for flowers - finished off by 'double-dip' brush work plus black flicks to represent pointed leaves. Silk flowers, butterflies and chop sticks were added to the girls' top knots.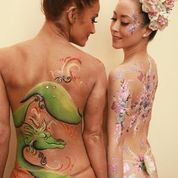 Red and black colours plus delicate blossoms are synonymous with the orient and the elegant geishas of Kyoto. So for other amazing gigs in central London I opted to use these for the painting and costume accessories.
I usually draw quick designs (below) and email them off to clients so that they can get a better idea of the imagery before they book myself, my assistants/colleagues and models.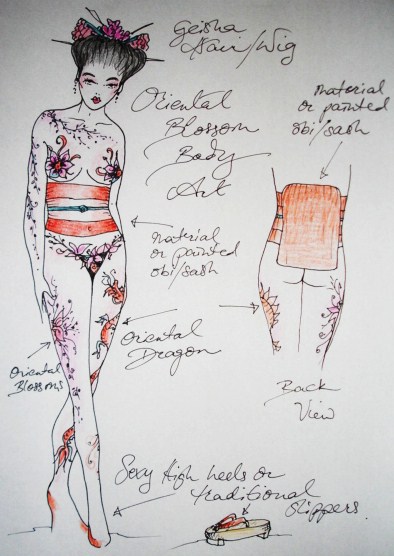 Glue silk flowers to chopsticks... Accessories like fans and umbrellas make the style.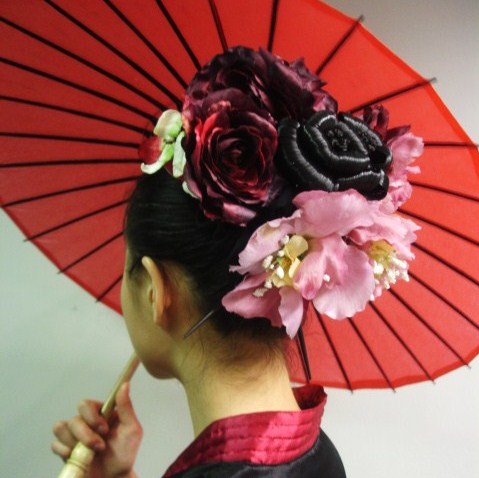 I was again Creative Director for this East-meets-West troupe. A great team effort with skilled colleagues and patient models. I supplied all the accessories; the red back cloths were actually stiff table runners!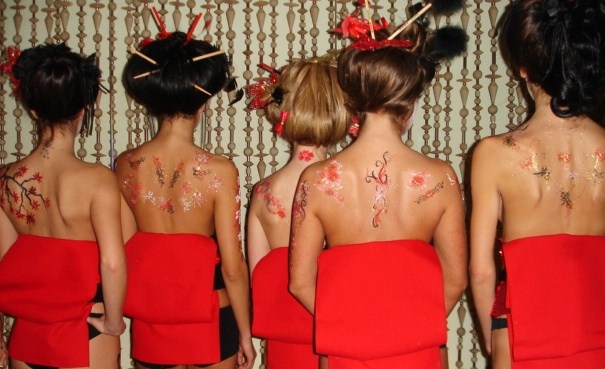 Body Art and Total Look Styling workshops are available.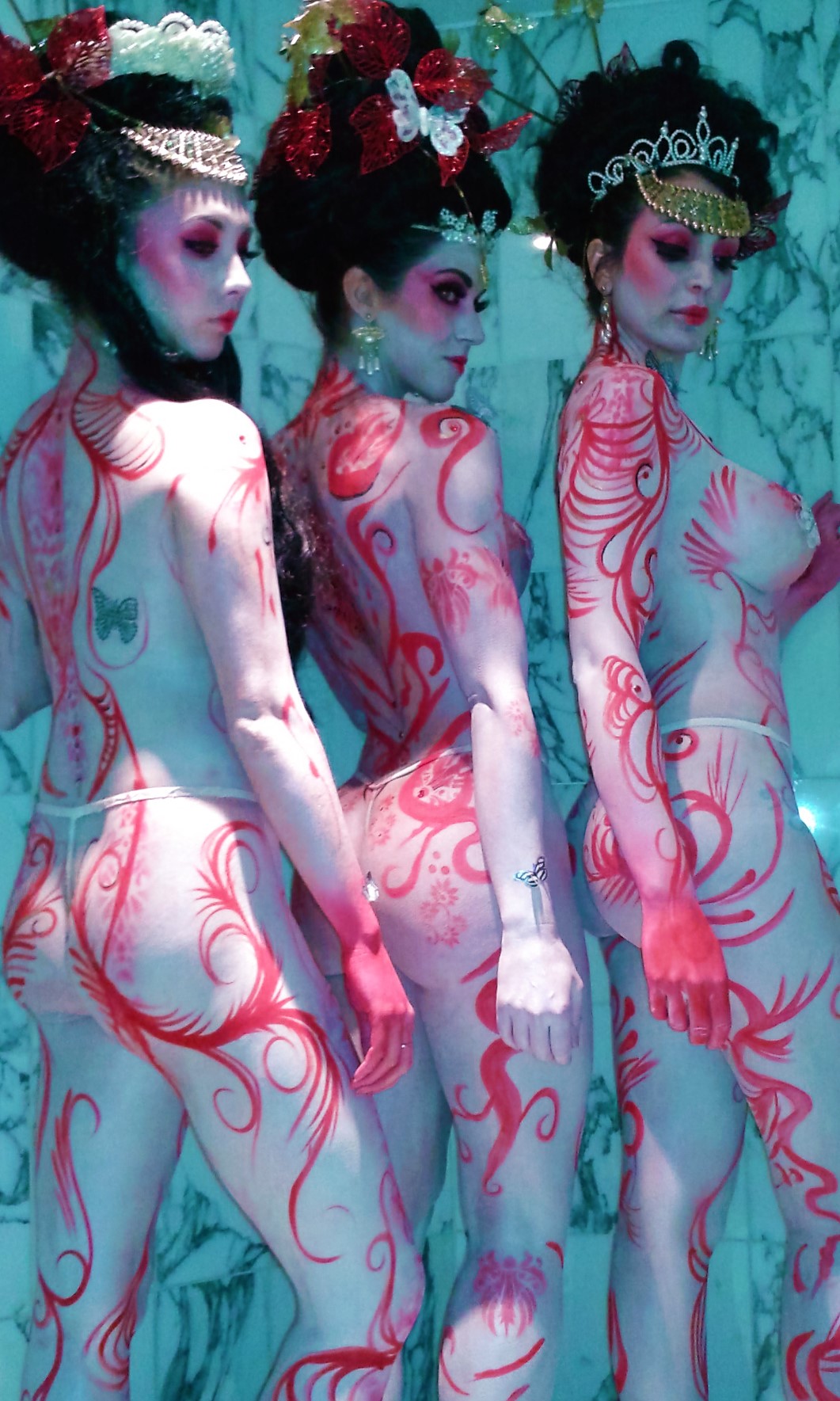 These Chinese Concubines were body painted to my designs by my wonderful team for a VIP birthday party at China Tang in The Dorchester, Mayfair, London. I started with the hair (huge hair pieces attached to top knots - with gold chop sticks decorated with butterflies). My colleagues then started working on the make up and finally bodies.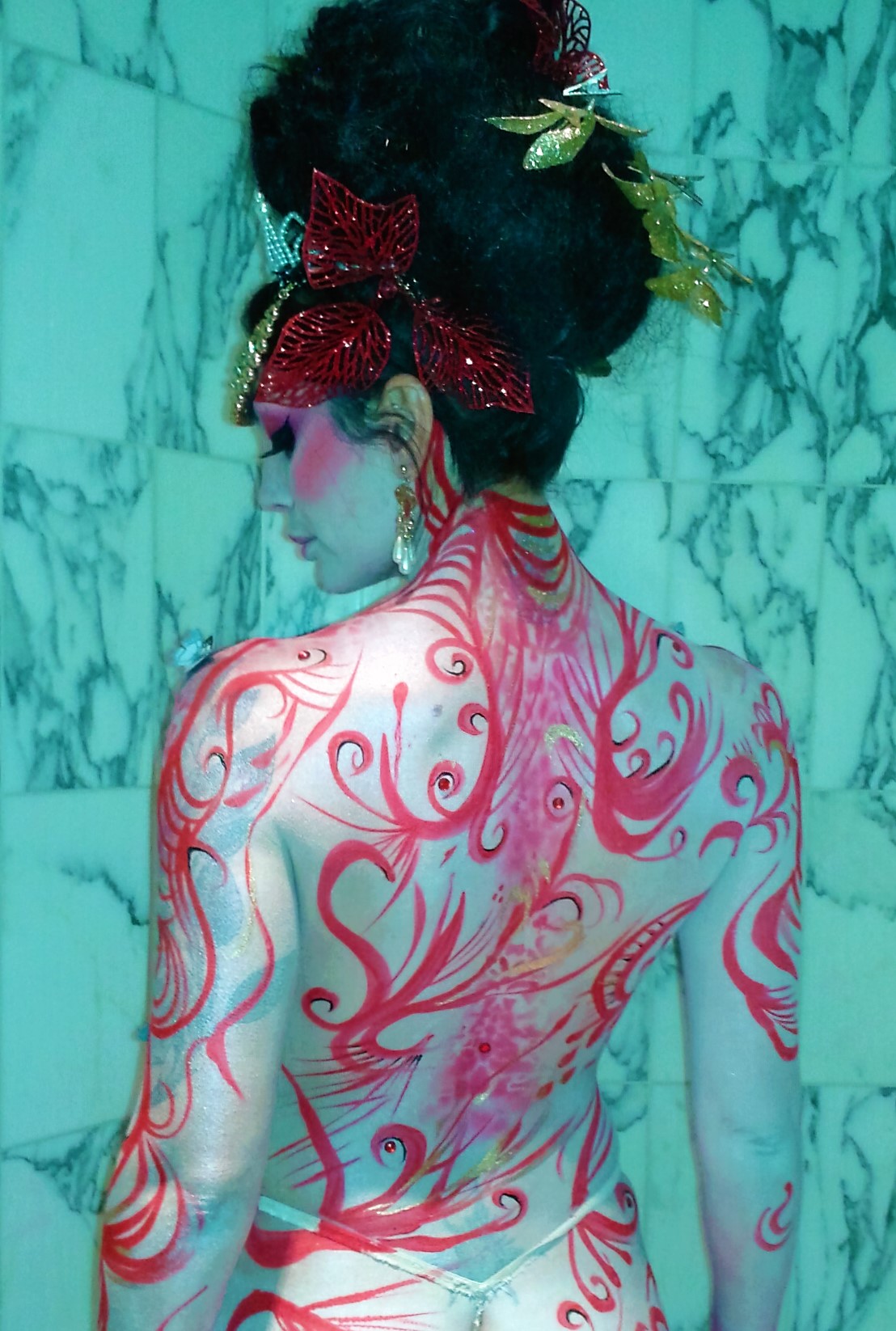 We mixed matt white and a pearl brightness by Kryolan to get a smooth (non-chalky) finish. The designs on top in red were airbrushed as well as done by hand. Touches of gold were added. I finished them off with hints of black shadow and a few body jewels... All were sprayed with fixative as we needed to keep the paint in tact for several hours. Finally I decorated the girls with earrings and hair jewellery for a sumptuous, imperial look.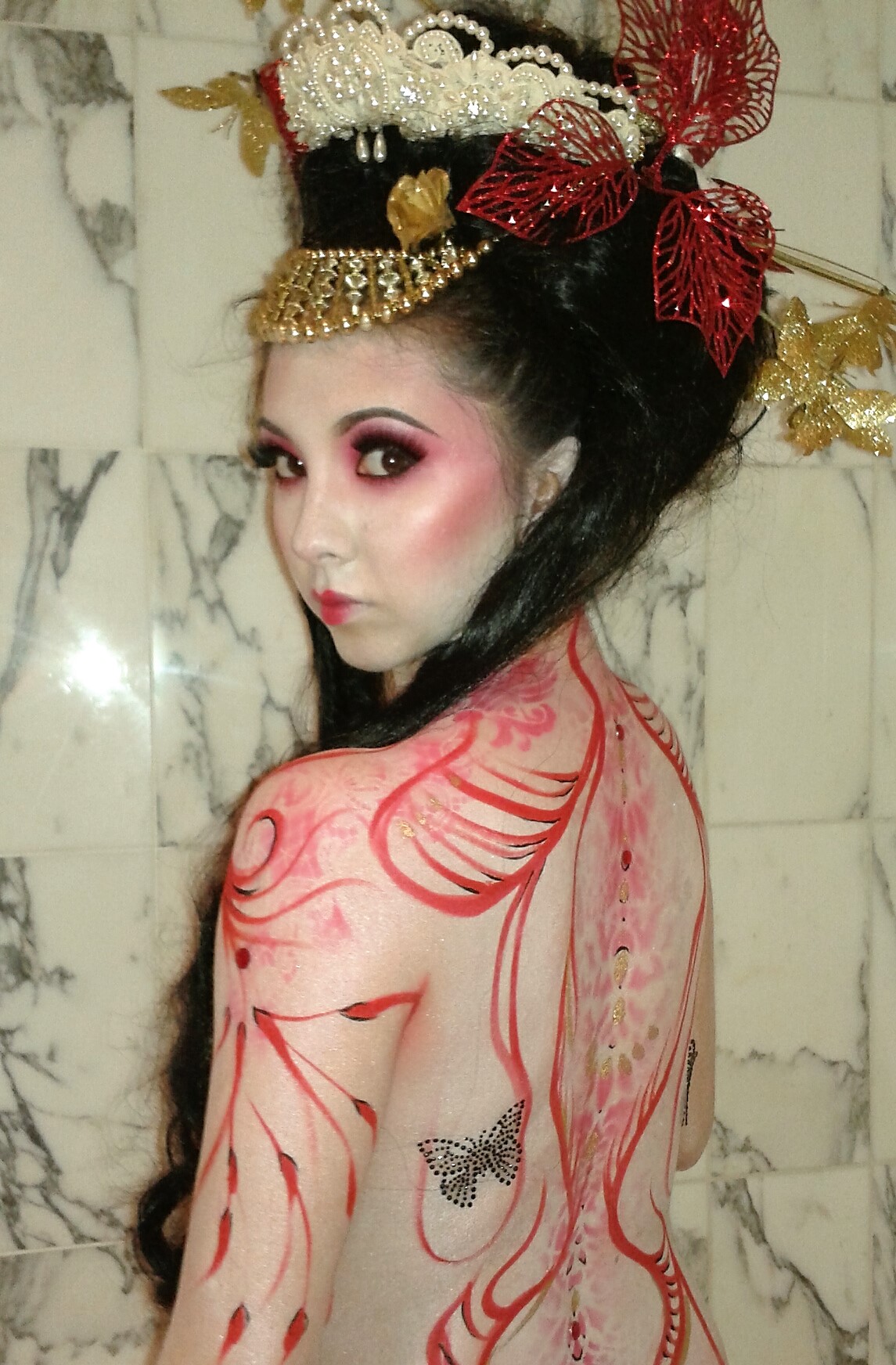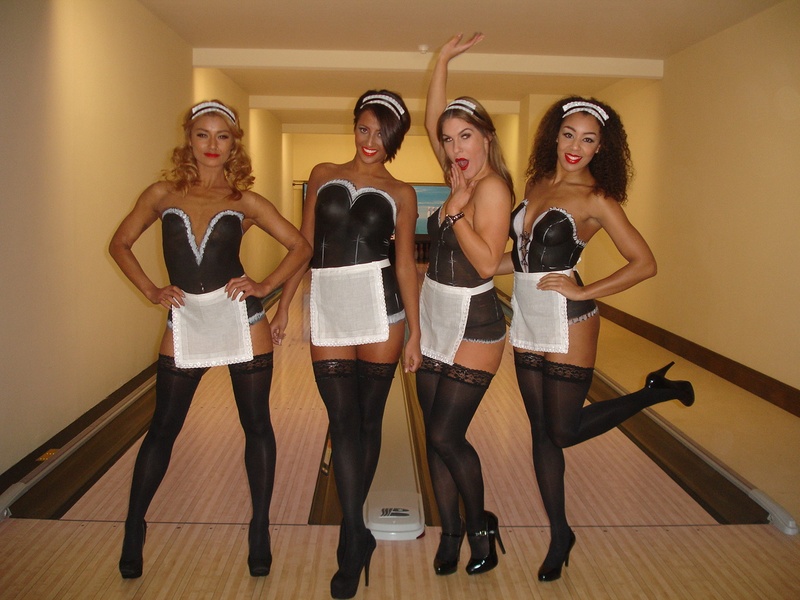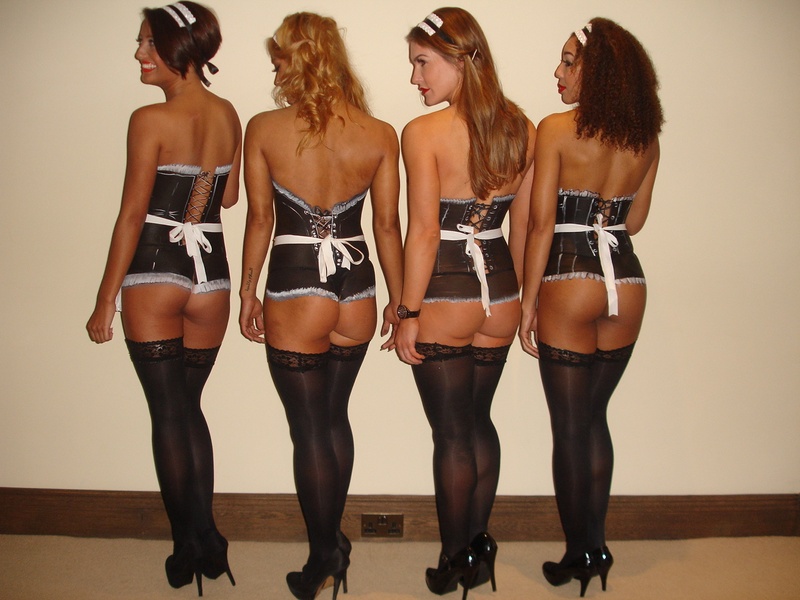 Above - Retro French Maid body painting. My colleagues and I (4 in total) each worked on a model/hostess. I made the head-dresses and micro-aprons. They served wine at a stunning private dinner party.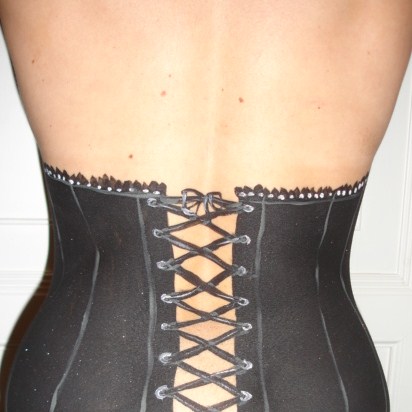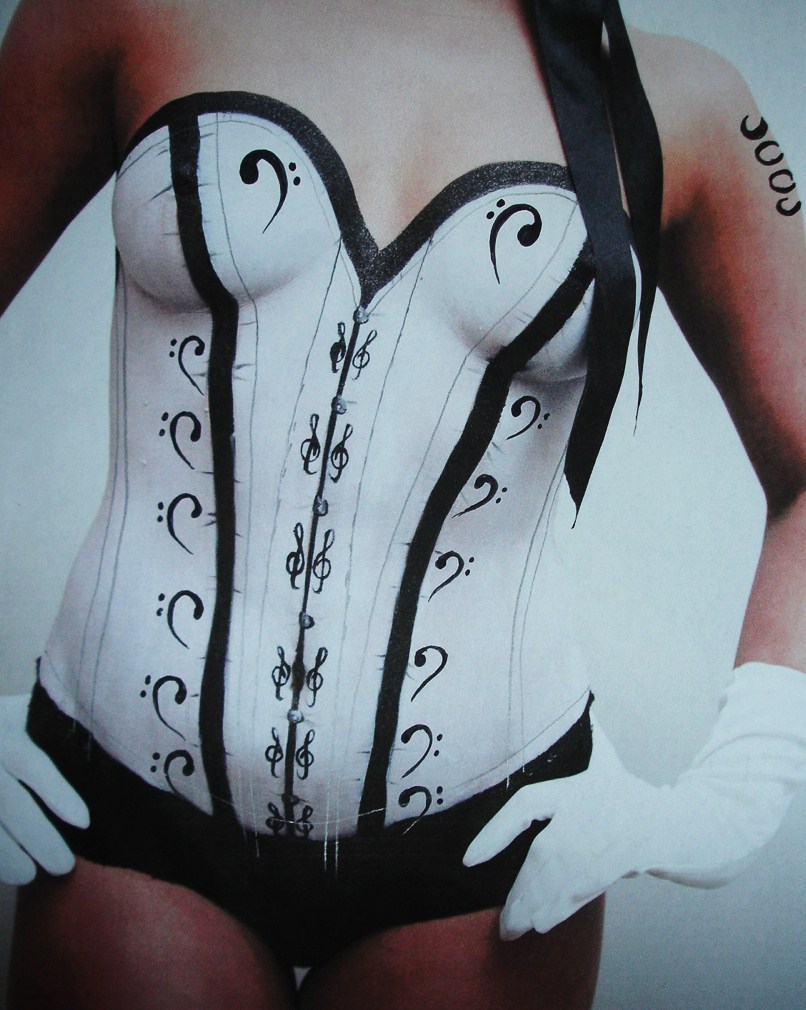 I always pay attention to the vintage style accessories to finish off the look.
These corsets all still need a grey shadow to be added to give the designs more of a 3D effect...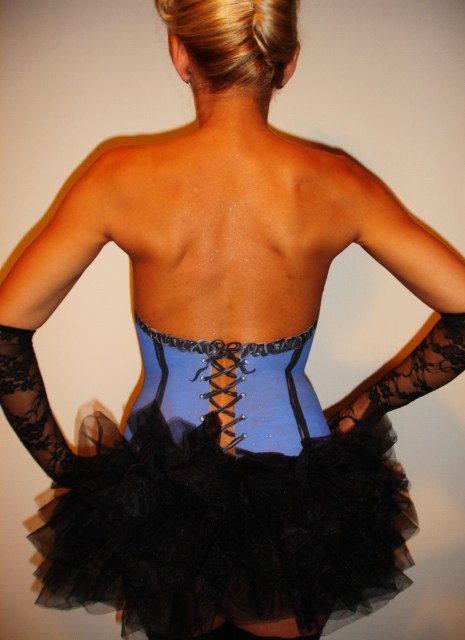 This ballerina blue body painted corset still needs shading and stitching details; it matched the client's eyes. She was off to a risque ball!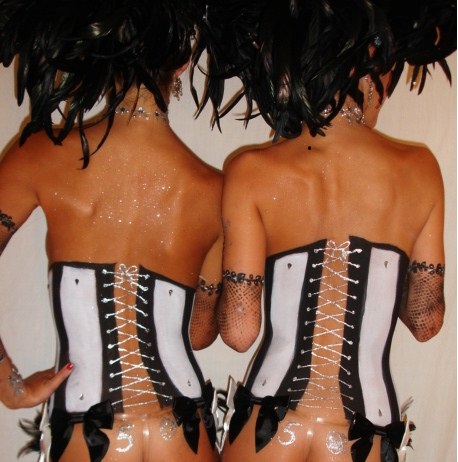 These twins were painted by my two colleagues and myself (to my design) for Simon Cowell's 50th birthday bash. The faux 'diamond' chokers and cuffs were crafted from body jewels and latticed with glitter paste to give a 'realistic' jewellery effect. They took so long... perhaps I just should have used costume jewellery! Well... I like a challenge! The nipple covers were hand made by moi and again enhanced with glitter paste (from a cone). Again, shadow needs to be added.
I have produced many of these for clients; a real favourite. I can include logos, initials and corporate colours to make them bespoke.
/